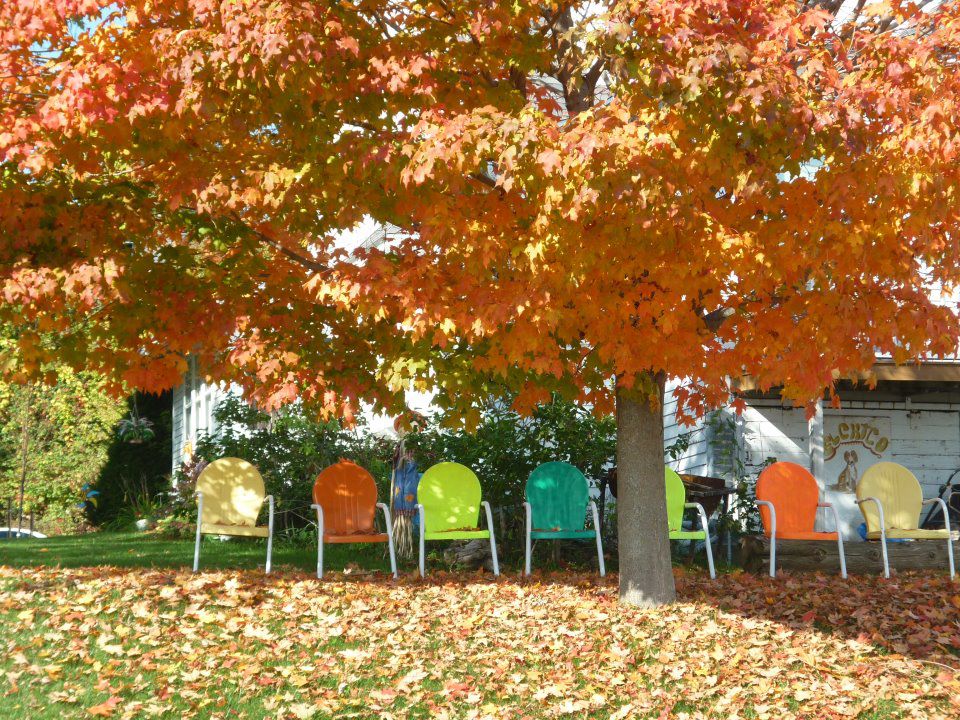 I'm venturing into something new. Something that if I had given myself the proper time to analyze, would have calculated that I'm not really prepared to do it. But throwing caution and my spreadsheets to the wind, decided what better way to learn than by jumping in?
I'm joining The Nester in her 31 days series. It began a few years ago when she invited seven friends to pick a theme for the month of October. They committed to writing about their theme every day for the month. Last year she had over 700 bloggers participate!
So here we go: leaping into 31 Days of Noticing Fall!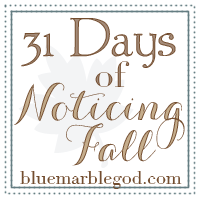 My hope to is to explore Fall as not only a season we physically experience, but also the themes of fall in our journey of faith.
As I thought about Fall, I let my mind wander around in all the corners of the aspects of Autumn that I love. As I did I came up with four connections to Fall and all that they symbolically represent to our souls.
Right now what I'm thinking (but don't hold me to it!) is:
Week One:  Back to School– exploring routines, new beginnings, organization, inspiration and goals.
Week Two:  Leaves– exploring change, transition, beauty, and dying that new life may come.
Week Three:  Shorter Days– exploring rhythm, rest, and Sabbath.
Week Four:  Harvest– gathering the results of our work, celebrating, sharing and abundance.
Each week as we explore these markers of Fall, we will notice how it translates to faith. Some days will be poems. Some will be reflection. Some will be nature. Some will be Scripture. And some will be food/recipes. (I have a very special guest poster who will be sharing a fall recipe each week!)
So come pull up one of these colorful chairs. Imagine us sitting under this glorious tree. And let us notice together what God may have in store for us in October.
I will be posting each day below:
Fall as back to school. Routine:
Day One– Firmly Planted in October
Day Two– Every Leaf is a Flower
Day Three– Personality and Fall
Day Four– Slow Cooker Recipe
Day Five– A Letting Go Kind of Seeing
Day Six– Straight Paths (weekend Scripture)
Fall as Leaves. Death. Transition. Our long journey to parenting:
Day Seven– Nothing Gold Can Stay (weekend poem)
Day Eight– Leaves of Redemption- our miscarriages
Day Nine– Season of No- failed adoptions
Day Ten– Waterfalls in Fall- what I know now
Day Eleven– Pumpkin Cinnamon Rolls recipe
Day Twelve– Going Home- Five years ago today
Day Thirteen– Reckless in Our Love (weekend Scripture)
Fall as Shortening Days. Rhythm. Sabbath.
Day Fouteen– Fall Invites us to Sabbath (weekend poem)
Day Fifteen– Shorter Days Calling
Day Sixteen– Here Comes Evening, the Start of our Day
Day Seventeen– Prayer for a Tired Branch
Day Eighteen– Roasted Red Pepper Pasta
Day Nineteen– Words Flow Words Blocked
Day Twenty– Slow Down (weekend Scripture)
Fall as Harvest. Gathering. Do not give up.
Day Twenty One– Sunday Harvest (weekend poem)
Day Twenty Two– When I'm 40. 60.80.
Day Twenty Three– Harvest- Interviewing the Clarks
Day Twenty Four– 10 Things for my Roommate to Know
Day Twenty Five– Harvest Veggie Pizza
Day Twenty Six– Harvest Vision
Day Twenty Seven– Do Not Grow Weary (weekend Scripture)
Bonus Days
Day Twenty Eight– Sacrament of Letting Go (weekend poem)
Day Twenty Nine– It's Not About the Pumpkin (a tribute to my dad)
Day Thirty– The Harvest of Allume

Day Thirty One– Goodbye October, Hello November

{top photo taken in Door County Wisconsin}
{thank you to Erin Lauray for my button!}