"Dada? How does my face look like you?
Although a couple of years ago, this conversation surfaces in my mind from time to time. I listened in from the kitchen. Our newly turned four-year wrestling in his own way with preschool conversations.
My husband replied, "Well. We both have dark brown eyes."
My son eagerly added, "And we both have the same hair!"
After talking about that for a few minutes, Rob said "Samuel, do you know that the way you look is from your birth family?"
They went on to talk about genes and skin color. Rob tenderly navigating the ways that a four-year old mind wanders and turns. Literal. Logical. Imagining. All rolled together in a bundle of energy.
After a bit, and sensing Samuel inquisitiveness, Rob said these words, "Do you want to know what you do inherit from me and mama?"
"What daddy?!"
"Our hearts."
After some laughter and Samuel trying to figure out how he gets our hearts into his, talk turned to legos and star wars.
Staying in the kitchen I had the luxury of soaking it in. Letting it wash over me, searching for the roots of what was said. I loved the response to the whole conversation.
First, simply answering the question asked. These are the things we have in common. Here are our similarities, even if the source is not genetic.
Second, moving into truth. In the same way your preschool classmates look at their mom and dad and see where they get their eyes and their smile, there are people out there that you look like. Very real people who every time February rolls around are wondering how much you have grown.
Third, acknowledging a larger theme. Love. As our Father adopted us, we have adopted you into our family. Just as our hearts have been shaped by this amazing love, our prayer is that your heart be connected to this overflowing fountain.
Love that sees no Jew nor Greek. No slave nor free. A Love that does not depend on genes. But one that allows a grafting in.
My son's inquiries, of wanting to know how is he alike his parents, stems from something in all of us. We want connections. We want to belong.
I recently conducted a scientific Facebook survey. Maybe it was more like skimming some friends' pages. Either way, the results were that 30% of comments left on children's pictures are related to similarities: "She looks more and more like you every year", "He is a mini-you" or "This looks just like your Uncle John's 3rd grade picture."
I do that too. It is good. It is a way we say this person is part of you. Celebrating a thread of life. A family to belong to. Marking the importance of relationship.
My son doesn't have the outer indicators of belonging to us. He is my kindergartener who describes friends by saying "Mama, he has light skin like yours."
And so I work more so on the deep roots of our souls and heart. Taking the conditions we have and cultivating, nurturing growth.
Does the imprint of our minutes, our hours, our days together become visible to others? Will his tender, sensitive heart be molded to know it belongs?
As I extrapolate these thoughts to life, I know that parents with biological children have the same hopes. As much as we delight in our children being a part of us, it is our children's character that keeps us up at night. It is the weighty matters of parenting.
For them to display integrity. Honesty. Compassion. Humility. Generosity. Discernment. Kindness.
For our values to be the values that guide them. For these intangible qualities to be what we pass on. To see it flourishing in their lives.
And as I reflect more, I begin to think of my own life. How do others know I belong to God? Do the characteristics of my adoptive Father show up in my daily life? Do others see him in me?
Do I let my Father who has adopted me, teach me how to be an adoptive mom?
With my eyes on him, I know that my motherhood is not bound by curly hair and Irish descent. It is bound by hands and feet tied to a cross.
A death conquered. A death that opens pathways to life. I run in the path of his commands for he has set my heart free. And it is in that freedom that my motherhood lies.
It is from this place that I will hold my son with my white arms wrapped around his brown ones.  With a heart that could not beat louder for him. If you are quiet, I bet you could hear it right now.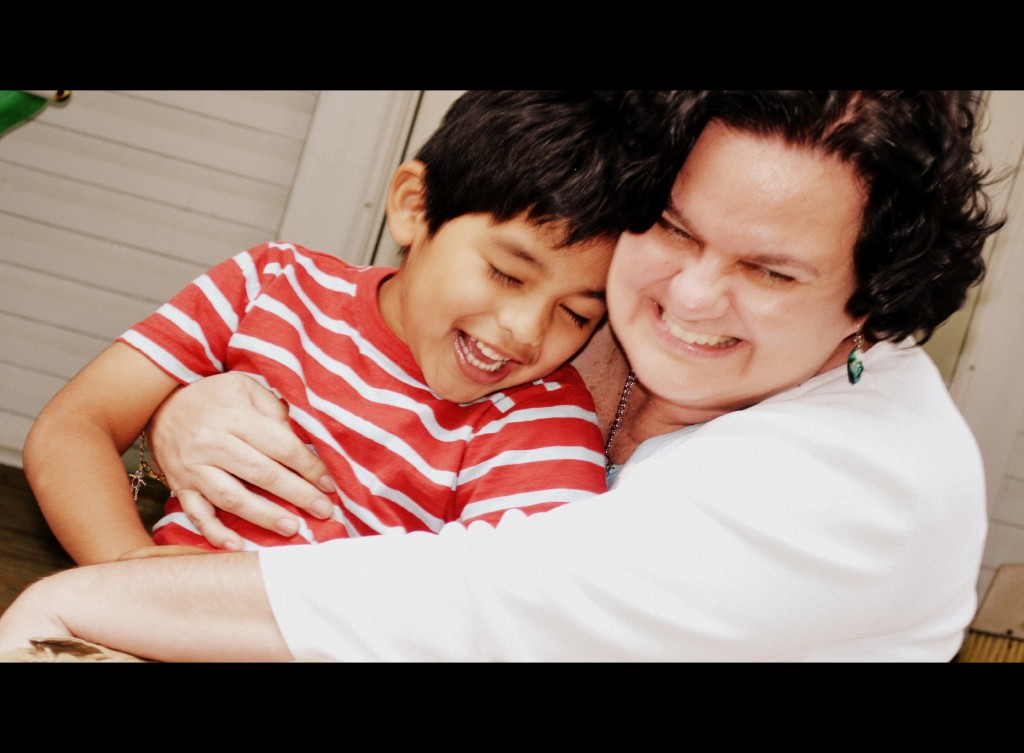 If you would like to receive in your inbox, enter your email in the Subscribe box above. You will receive an email, once you verify that- they will start coming!
Bottom photo taken Mothers Day 2012.
Linking up today with WIP Wednesday and God-Bumps and God Incidences